FREE SPEECH HISTORY TIMELINE
Dive into a timeline covering the subjects of Clear and Present Danger. The timeline will expand as we travel through the history of free speech.
<!========= Cool Timeline PRO 2.8 =========>
Free speech history
Episode XI: The Great Disruption Part II

In episode XI we continue to survey the wreckage after hurricane Luther was unleashed on Europe with the Reformation, with a superstar cast including Calvin, Servetus, Castillio, Acontius, Henry VIII, Bloody Mary, Pope Paul IV, Giordano Bruno, Galileo and many more.
When the Reformation mutated and spread across the continent a burning question arose: Can people of different faiths live together in the same state? Should social peace be based on tolerance or intolerance? We look into questions such as:
How did other Protestant reformers like Calvin and Zwingli react to religious dissent?
In what manner did English and continental censorship laws differ?
How did the Catholic Church react to the Reformation?
Which states were the first state to formalize religious tolerance?
How did the scientific and philosophical ideas of Galileo and Giordano Bruno conflict with the religious monopoly on truth and what where the repercussions?
1553: Calvin, Castellio and Serveto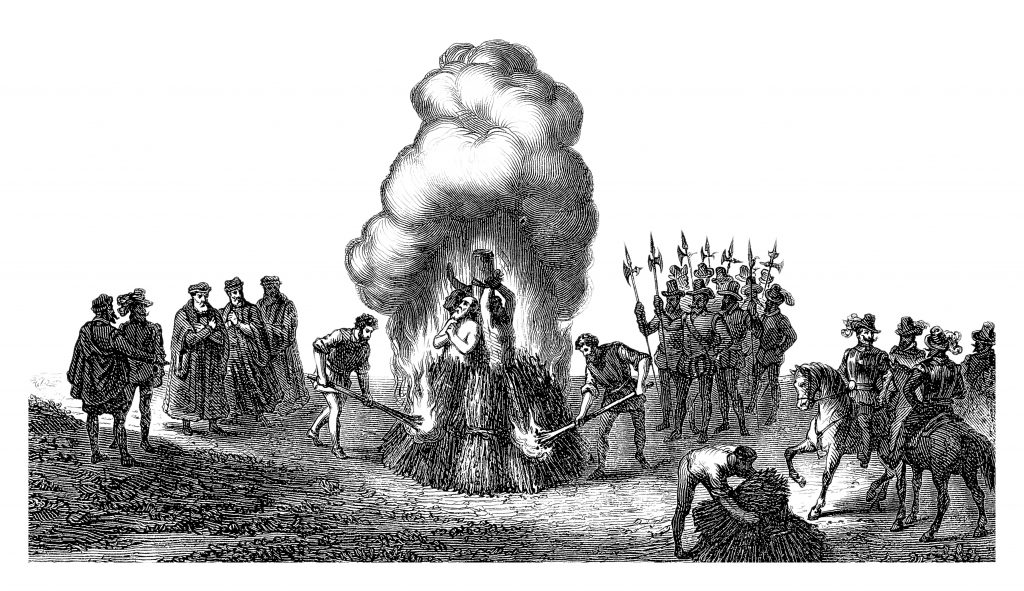 In October 1553, the Spanish polymath Miguel Serveto is burned alive in Calvins's Geneva. As a notorious anti-Trinitarian, Serveto is found guilty of blasphemy and questioning the divinity of Christ.
The execution moves the theologian Sebastian Castellio to pen his famous book on religious toleration, Concerning Heretics:
"Men are puffed up with knowledge or with a false opinion of knowledge and look down upon others. Pride is followed by cruelty and persecution so that now scarcely anyone is able to endure another who differs at all from him. Although opinions are almost as numerous as men, nevertheless there is hardly any sect which does not condemn all others and desire to reign alone. Hence arise banishment, chains, imprisonments, stakes, and gallows." – Sebastian Castellio
1553-1558: 'Bloody Mary'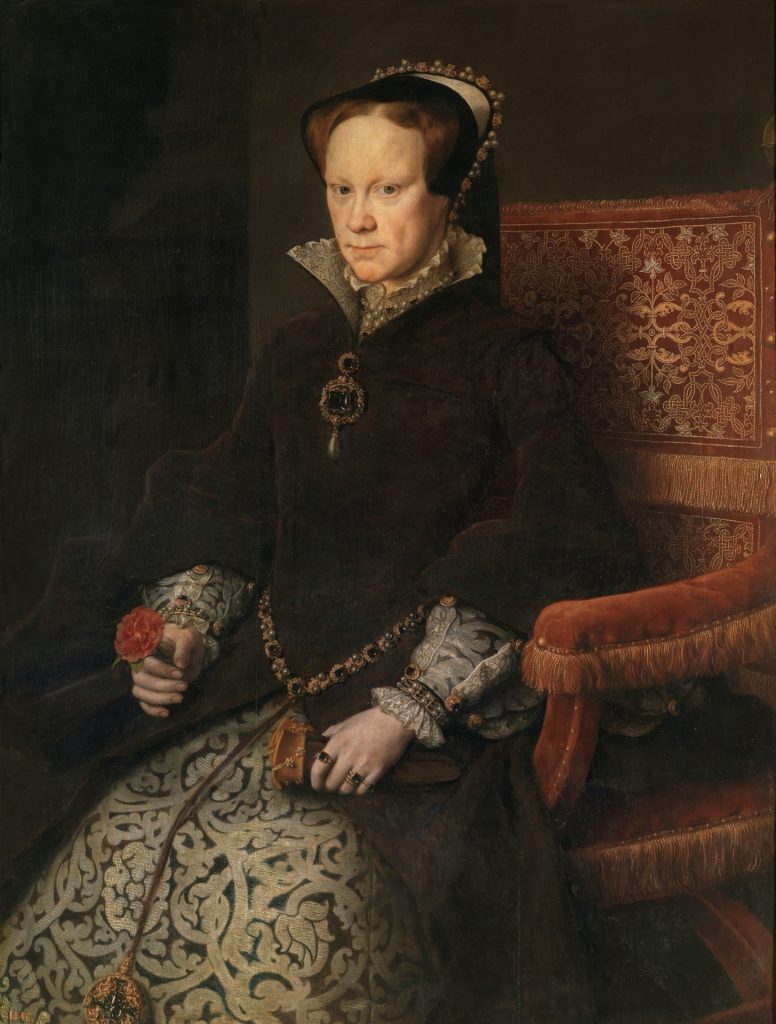 Portrait by Antonis Mor, 1554 (Public Domain)
Henry's Catholic daughter, Mary I, ascends the English throne in 1553. In an attempt to reverse the English Reformation, she burns around 300 heretics at the stake. She also declares it an act of treason to prey that her heart might be turned from popery. She issues a revised Index of Forbidden Books and punishes slanderous writings with hand amputations.
1555-1559: Pope Paul IV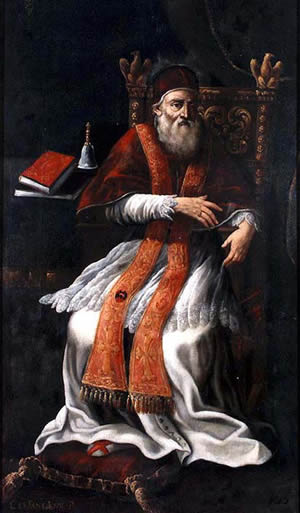 As Inquisitor-General of the new Roman Inquisition, Gian Pietro Carafa declares that:
"Even if my own father were a heretic, I would gather the wood to burn him." – Pope Paul IV
When Carafa becomes Pope Paul IV in 1555, he orders fig leaves on nude statues and paintings. He makes Jews wear distinctive yellow hats and instigates the Index of Forbidden Books.
1559: The Index of Forbidden Books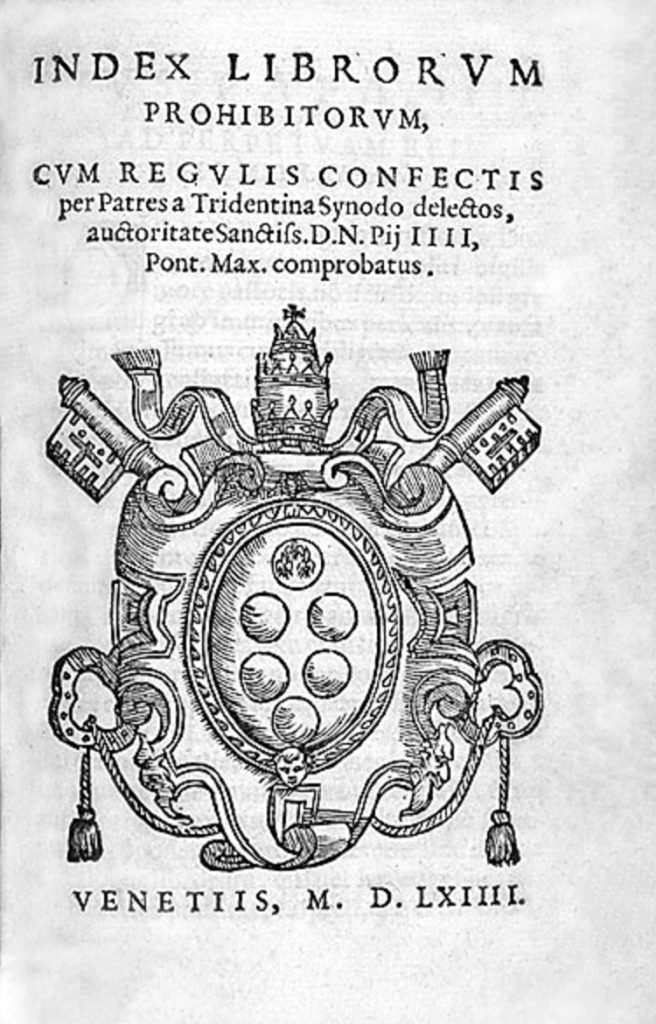 Index Librorum Prohibitorum, Venice, 1564 (Public Domain)
Paul IV issues the first papal Index of Forbidden Books in 1559. It bans the entire writings of 550 authors, including Erasmus, Machiavelli and Rabelais. To enforce the censorship, inquisitors scan manuscripts, erase passages with ink and cut out pages. Prohibited books are collected and burnt. The index is not formally abolished before 1966.
1558-1603: Elizabeth I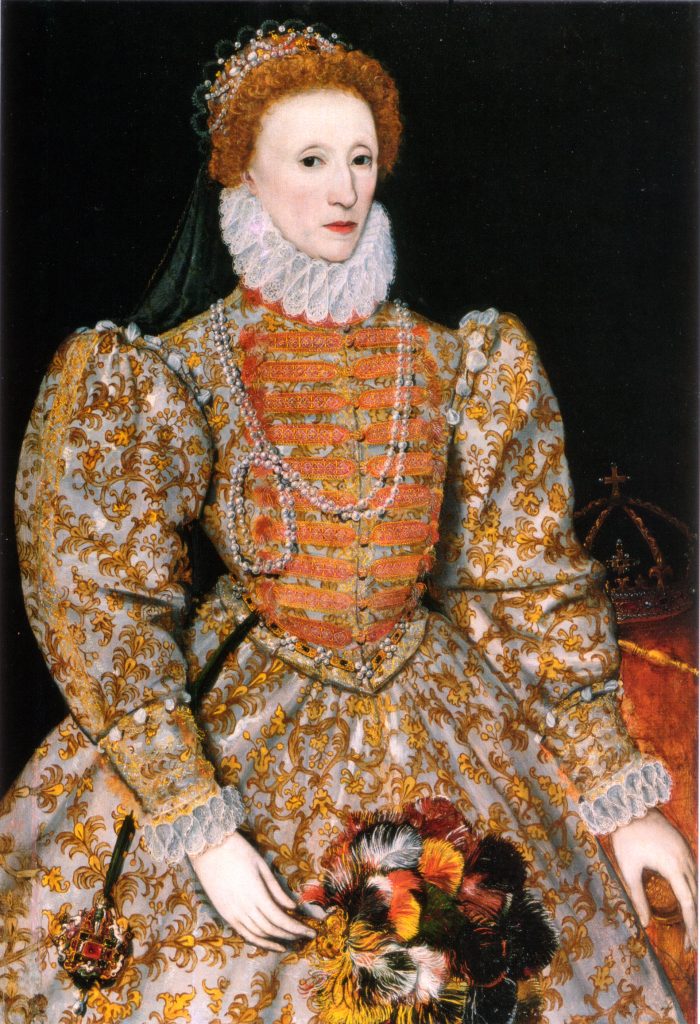 Portrait c. 1575. Unknown painter. (Public Domain)
When Bloody Mary dies in 1558, her half-sister Elizabeth takes over the family business and declares England a Protestant nation. Queen Elizabeth makes it illegal to skip church and declares it an act of treason to call her a 'bastard' or a 'usurper'.
1568: The Edict of Torda
The Edict of Torda is issued by the Transylvanian Diet in 1568. The edict recognizes the legal status of Lutherans, Reformed, Catholics, and even the heavily persecuted anti-Trinitarians.
"Ministers should everywhere preach and proclaim [the Gospel] according to their understanding of it, and if their community is willing to accept this, good; if not, however, no one should be compelled by force if their spirit is not at peace, … no one is permitted to threaten imprison or banish anyone because of their teaching, because faith is a gift from God."
Three years later, the edict is expanded with an amendment declaring that:
"the word of  God shall be preached freely everywhere. No one, neither preacher nor listener, shall come to harm on account of his confession".
1572: The St. Bartholomew's Day Massacre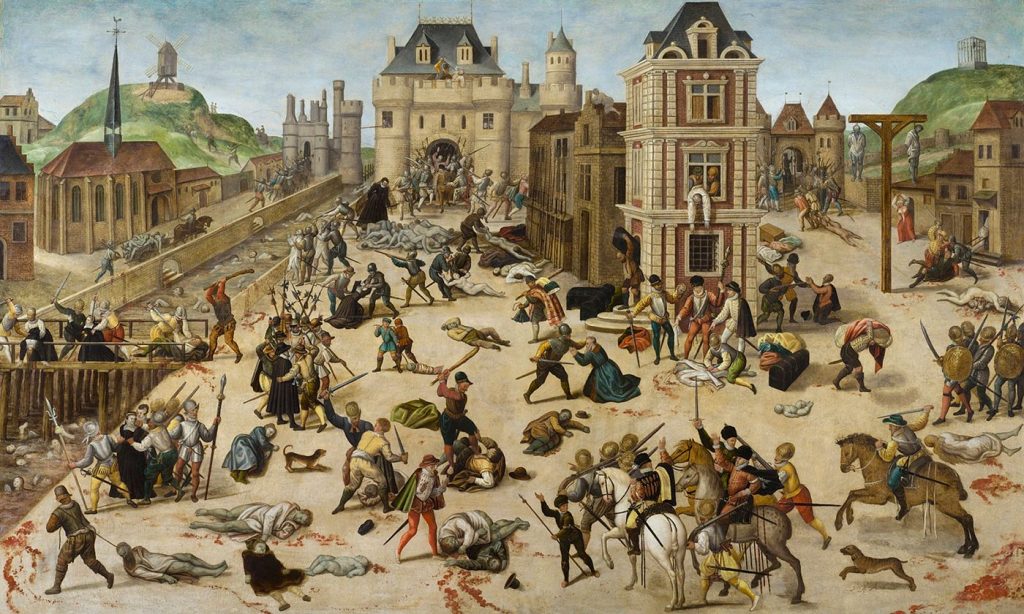 François Dubois, A masacre de San Bartolomé, painted between 1572-1584 (Public Domain)

On St. Batholomew's Day in August 1572, royal troops are given the order to execute Huguenot leaders in Paris. Mass killings erupt and spreads to other major cities, resulting in the deaths and mutilations of thousands of Huguenots.
1573: The Warsaw Confederation Act
On 28 January 1573, the Sejm of Poland-Lithuania passes the Warsaw Confederation Act. It includes a clause on religious freedom:
"…we mutually promise for ourselves and our successors forever … that we who differ with regard to religion will keep the peace with one another, and will not for a different faith or a change of churches shed blood nor punish one another by confiscation of property, infamy, imprisonment or banishment…"
1581: Birth of the Dutch Republic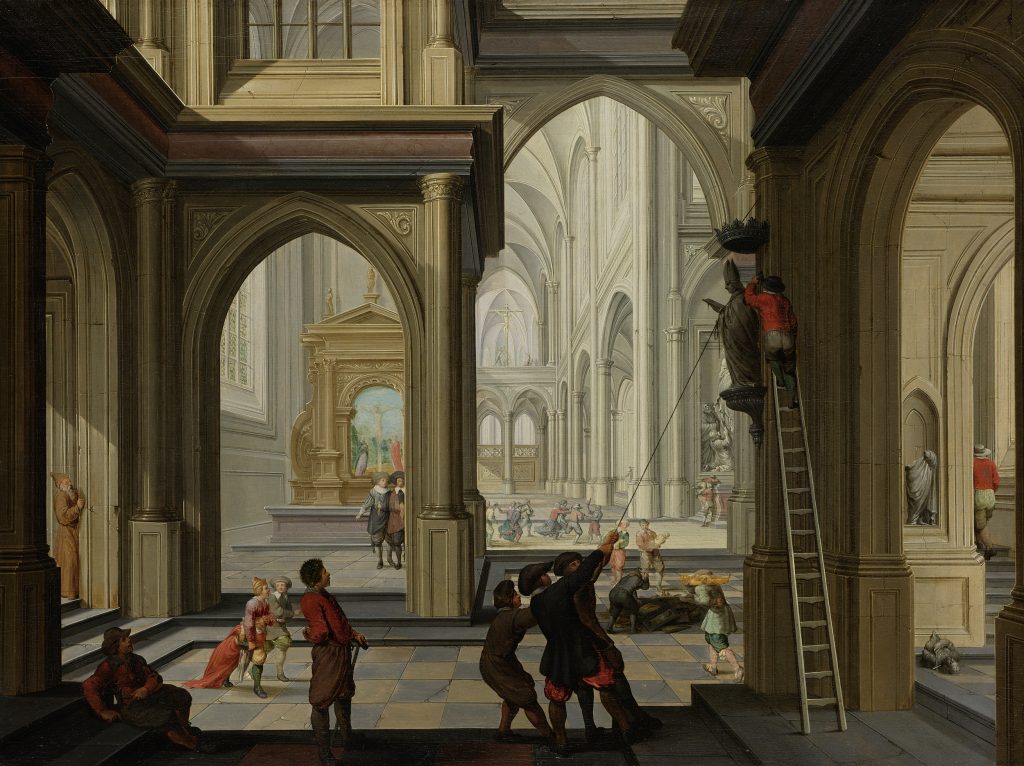 Iconoclasm in a Catholic church. Dirck van Deelen, 1630 (Public Domain)
The Low Countries quickly become an important stronghold of Calvinism. Eventually, the Low Countries are divided into a Protestant North and a Catholic South.
In 1581, the rebellious Northern states declare their independence from the Spanish king. The Dutch Republic is born. The same year, Catholics are banned from assembling to worship.
1600: The Execution of Giordano Bruno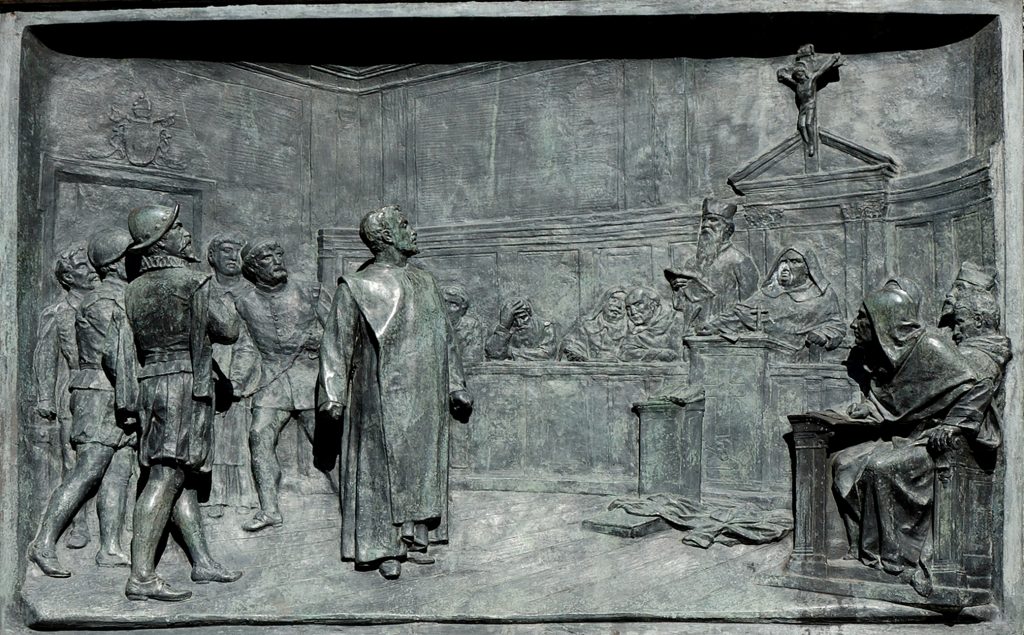 Bruno and the Roman Inquisition. Bronze relief by Ettore Ferrari (1845-1929), Campo de' Fiori (Public Domain)
The natural philosopher and Domestic friar Giordano Bruno is best known for his controversial cosmology: His heliocentric worldview and his belief in an infinite universe where Creation takes place repeatedly.
In the winter of 1600, the Roman Inquisition convicts Bruno for an unknown offence. All his books are banished to the Pope's Index of Forbidden Books. Bruno is burned alive at Campo de' Fiori on February 7th.
1632: Galileo and the Inquisition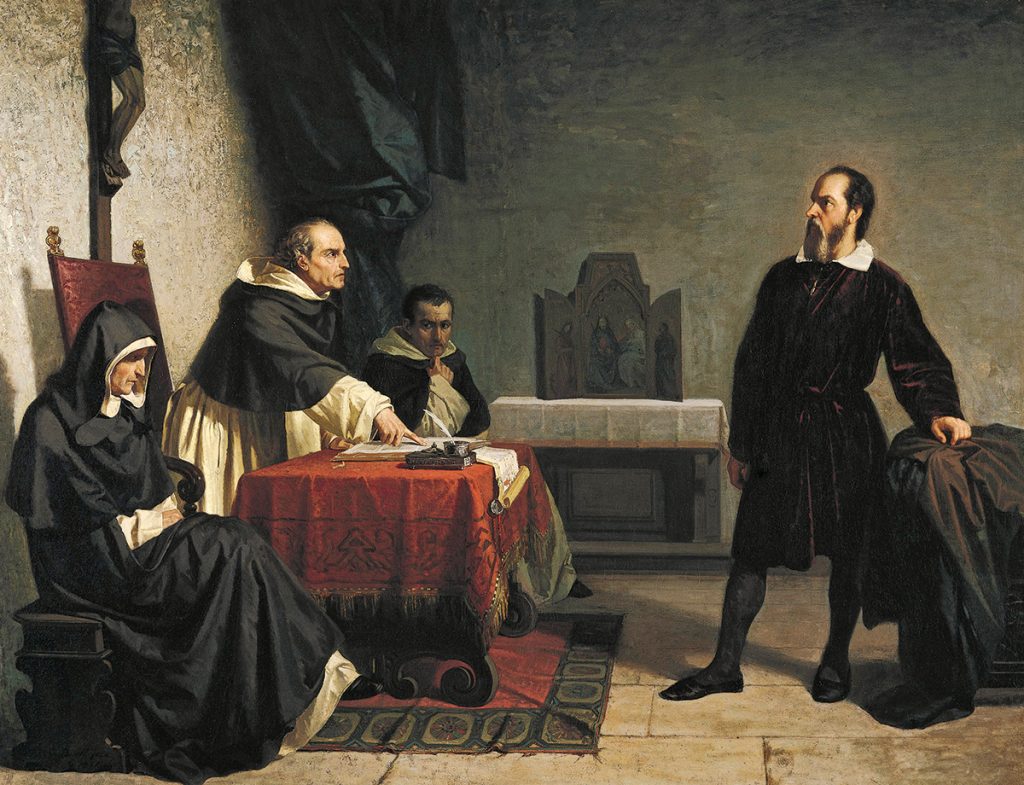 Cristiano Banti (1857): Galileo facing the Roman Inquisition (Public Domain)
In 1632, the astronomer Galileo Galilei finds himself in the clutches of the Roman Inquisition because of his Dialogue Concerning the Two Chief World Systems. The inquisitors force him to recant his theory of the moving Earth and live out the rest of his life in house arrest.
Episode XIV: 'Universal Peace' – Religious tolerance in the Mughal empire


Episode 14 leaves the West and heads to 16th and 17th Century India and the Mughal empire. In particular, the rule of Akbar the Great.
A century before John Locke's "A Letter Concerning Toleration," Akbar developed a policy of "Universal Peace" repudiating religious compulsion and embracing ecumenical debate. We'll also discover why the history of the Mughal empire still tests the limits of free speech and tolerance in modern India. Among the questions tackled are:
Why, how, and to what extent did Akbar abandon orthodox Islam for religious tolerance?
How did religious tolerance in the Mughal empire compare to contemporary Europe?
How did English travelers get away with openly blaspheming Muhammad, the Quran, and Allah?
Was the emperor Aurangzeb really the uniquely intolerant villain that history has portrayed him as?
Why do India's current laws against religious insults hamper modern historians' efforts at documenting events during the Mughal empire?
1556-1605: Akbar the Great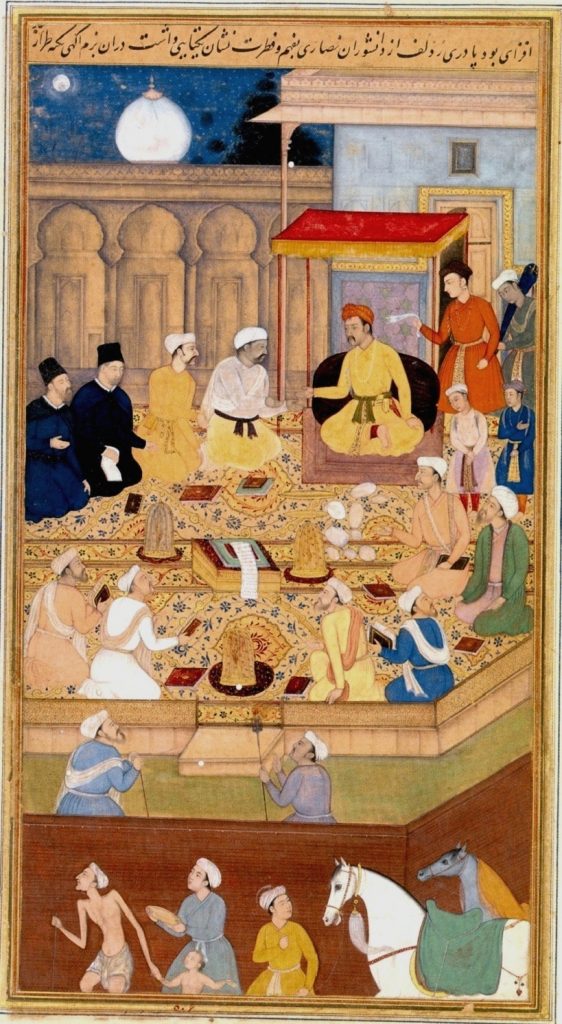 Akbar receives two Jesuit priests at his court, miniature c. 1605 (Public Domain)
The Mughal emperor Akbar (r. 1556-1605) is famous for his religious tolerance: He abolishes the Jizya tax on non-Muslim subjects, allows forced converts to re-convert and invites priests from different religions to discuss their believes. He even lectures the Persian Shah 'Abbas and the Spanish king Philip II about the values of tolerance.
"Formerly I persecuted men into conformity with my faith and deemed it to be Islam. As I grew in knowledge, I was overwhelmed with shame." – Akbar the Great